Contact us
Bordeaux
Sotheby's International Realty
40 Cours de Verdun
33000 Bordeaux, France
Cap Ferret / Pyla
Sotheby's International Realty
13 Boulevard de l'Océan
33115 Pyla sur mer, France
Cap Ferret / Pyla
Sotheby's International Realty
186 bis route du Cap Ferret, Le Canon
33950 Lège-Cap Ferret, France
>
>
Que nous réserve le marché de l'immobilier en 2018 ?
La question est posée et les réponses seront multiples.

Prenons le temps d'observer ce qu'il s'est passé en 2017.
En quelques chiffres 952 000 ventes enregistrées (sept 2016-sept 2017)
1,55% taux de crédit moyen en décembre 2017 : un taux historiquement bas
4% c'est la hausse moyenne des prix observée au niveau national
2017 fut une année folle, avec des prix de l'immobilier en pleine essor. Bordeaux a été la locomotive de cette dynamique immobilière : +12% en moyenne. Les maisons, les hôtels, particuliers mais aussi les appartements et les châteaux ont connu une hausse.
Evidemment la LGV a largement contribué à cet élan mais pas seulement. Bordeaux, la belle endormie s'est réveillée et les bordelais ont bien compris la pépite qu'ils avaient entre les mains. Une jolie ville - de plus en plus dynamique - une région proche de l'océan et des montagnes. Un idéal de vie très recherché !
Une ville rénovée et réveillée qui a bousculé les mouvements immobiliers. Ce qui nous amène à une année record en termes de nombre de transactions mais aussi en termes de prix au m².
En 2018, la politique du logement est décortiquée par les experts. Nous partons du constat que la taxe d'habitation sera supprimée pour une partie des foyers, l'ISF sera remplacé par l'IFI, les prêts à taux zéro et la loi Pinel seront recadrés, et enfin les taux d'emprunt seront en très légère hausse.
Ces changements viendront-ils perturber le marché de l'immobilier bordelais.
À priori non, les experts anticipent un marché actif mais avec une croissance moins importante qu'en 2017.
Néanmoins, attention à ce genre d'effet qui rend le marché plus tendu donc avec des biens plus rares.
Une belle année 2018 nous attend, à chacun d'entre nous d'en tirer le meilleur profit pour trouver la propriété de vos rêves ou vendre la maison.
Demandez-nous conseils, nos experts, spécialiste dans l'
immobilier de luxe à Bordeaux
, vous accompagneront dans vos projets immobiliers.
Bordeaux Sotheby's International Realty, votre expert dans l'immobilier de luxe à Bordeaux et au Bassin d'Arcachon
The latest news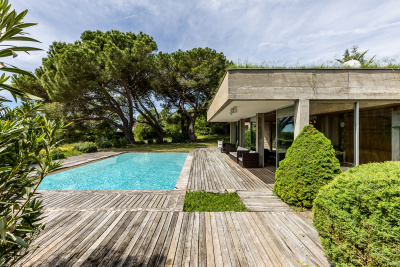 We LOVE the BEAUTIFUL because it makes us feel GOOD! So when you entrust us with a sublime, unusual and legendary place to stay in ... we share it! And then we start selling it (the house is under preliminary sale agreement ... from the very first day of marketing)...
Read more