Contact us
Bordeaux
Sotheby's International Realty
40 Cours de Verdun
33000 Bordeaux, France
Cap Ferret / Pyla
Sotheby's International Realty
13 Boulevard de l'Océan
33115 Pyla sur mer, France
Cap Ferret / Pyla
Sotheby's International Realty
186 bis route du Cap Ferret, Le Canon
33950 Lège-Cap Ferret, France
>
>
Feel Good entrances et lobbies
4 "do" and "don't" to make your future buyers feel comfortable in your home !

You have now decided to sell your property.
We have established the selling price together.
The first visits will happen ... we are sharing with you our 4 "do" and "don't" for FEEL GOOD entrances and lobbies ... so the first steps of our potential buyers in your place are those that will bring us to a successful and balanced deal.
It is a welcoming place, a place of passing, of exchange. It is also a distribution point to other living rooms or the point of anchorage of a flight of staircase to the upper floors.
1 - DO :
The entryway should be bright, lighted. You can use wall lamps or light bulbs to be placed on a thin bracket or on a small bank. Some candles may also be used.
We recommend the selection "Luminaires" and "candles", both smart and respectful of the Boutique "La Trésorerie", in Paris. Their delivery service is amazingly efficient!
2 - DON'T:
To omit small storage and furnishings able to welcome "the outside": jackets, Umbrellas, shoes and more keys.
3 - DO:
We again highlight the entrance - sometimes forgotten in the renovations of lofts or uncluttered spaces. If no specific room exists, don't hesitate to create a partition with some low furniture or a double sided bookshelf. We recommend getting inspired at the Galerie Tourny in Bordeaux. Do not forget the great importance of mirrors to make these small areas larger ... and for the final look at your silhouette in the morning!
4 - DO:
The hallway is also a place that connects to the other parts of the house. It should welcome and distribute the energies coming from the outside. This fluidity can be accompanied or symbolized by round decorative elements: rugs, mirrors or pedestal tables. We invite you to consult this SPLENDID book "TOIT et MOI", from Editions du Chêne.
Translated with www.DeepL.com/Translator (free version)
The latest news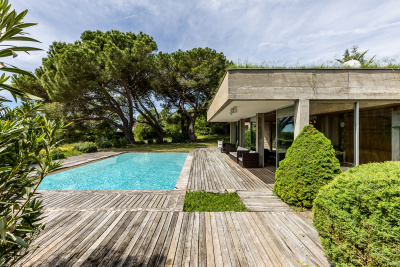 We LOVE the BEAUTIFUL because it makes us feel GOOD! So when you entrust us with a sublime, unusual and legendary place to stay in ... we share it! And then we start selling it (the house is under preliminary sale agreement ... from the very first day of marketing)...
Read more