Contact us
Bordeaux
Sotheby's International Realty
40 Cours de Verdun
33000 Bordeaux, France
Cap Ferret / Pyla
Sotheby's International Realty
13 Boulevard de l'Océan
33115 Pyla sur mer, France
Cap Ferret / Pyla
Sotheby's International Realty
186 bis route du Cap Ferret, Le Canon
33950 Lège-Cap Ferret, France
>
>
Juillet .... C'est l'Eté !
Mais ce ne sont PAS ENCORE les vacances pour nos agences du Cap Ferret - Pyla et de Bordeaux !

C'est l'été. C'est Juillet. On flotte, on rêve et on flâne ...
Mais on peut également SE DECIDER à Vendre et (ou) à Acheter, pour enfin croiser le bel endroit où vivre à la rentrée !!
Et si vous veniez visiter quelques-uns de nos lieux à vendre ? cela vous donnera l'envie ....
... DE FLANER, DE REVER ET DE FLOTTER .... dans cette merveilleuse piscine agrémentant un superbe domaine à l'élégance bohème, constitué d'une maison de maître et d'une maison d'amis magnifiquement rénovées - pour un total de de 8 chambres. A 25 minutes au Sud Ouest de Bordeaux.
Le parc environnant de 3 hectares est planté d'arbres centenaires. C'est un endroit juste ... RARE.
2 340 000 € honoraires charge Vendeurs.
Bordeaux Sotheby's International Realty, votre expert dans la vente de maisons, propriétés et appartements de luxe à Bordeaux
The latest news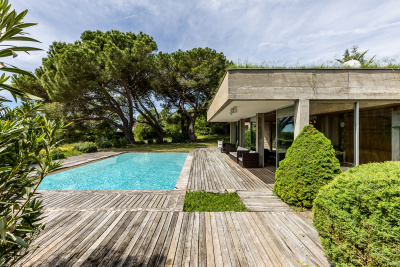 We LOVE the BEAUTIFUL because it makes us feel GOOD! So when you entrust us with a sublime, unusual and legendary place to stay in ... we share it! And then we start selling it (the house is under preliminary sale agreement ... from the very first day of marketing)...
Read more