Contact us
Bordeaux
Sotheby's International Realty
40 Cours de Verdun
33000 Bordeaux, France
Cap Ferret / Pyla
Sotheby's International Realty
13 Boulevard de l'Océan
33115 Pyla sur mer, France
Cap Ferret / Pyla
Sotheby's International Realty
186 bis route du Cap Ferret, Le Canon
33950 Lège-Cap Ferret, France
>
>
TOP 7 des lieux bordelais
Les lieux préférés de vos négociateurs immobiliers

La ville de Bordeaux regorge de lieux magiques.
Voici une liste que notre équipe de l'
agence immobilière de luxe de Bordeaux
souhaite partager avec vous. Découvrez les places et recoins préférés de nos négociateurs bordelais.
- Un thé bien sûr… et un tiramisu à la framboise, assise à une table sur la cour pavée Place du Chapelet (aussi dite Place Mably), contemplant la magnifique église Notre Dame ! Vive les papilles et la beauté des lieux !


- Nos gourmands négociateurs vous invite à vous munir d'une bonne poche de dunes, et à vous poser sur un banc de la place du Palais Gallien. Dégustez cet instant.


- Une de nos nouvelles collaboratrices nous a permis de découvrir une jolie place avec une histoire souvent méconnue : la place Mitchell. Ce verrier venu d'Irlande, s'installa en 1723. Il fut le fondateur de LA bouteille bordelaise.


- Recommandé par un de nos négociateurs immobilier, le café du musée dans lequel après votre visite, vous pourrez vous délecter d'un bon brunch.


- Incontournable : la Cité du Vin pour amateurs ou connaisseurs, ce lieu devenu emblématique de Bordeaux vous fera découvrir et redécouvrir toutes les subtilités du vin.

- Un de nos endroits préférés c'est la traversée du Jardin Public, bordé de beaux immeubles ou monuments. Voir les enfants jouer, voir les familles évoluer, les étudiants dans l'herbe, des femmes et des hommes lirent un livre sur un banc, d'autres se promener avec leurs chiens, ou marcher ou jogger .... et terminer sa course à l'orangerie pour une pause café ou une belle salade.


- Et enfin, oui, c'est connu mais c'est tellement sympa, de prendre quelques tapas au marché des Capucins et de repartir avec son panier garni de bons produits.
The latest news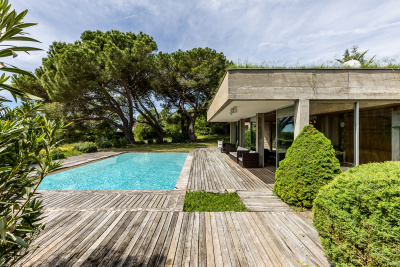 We LOVE the BEAUTIFUL because it makes us feel GOOD! So when you entrust us with a sublime, unusual and legendary place to stay in ... we share it! And then we start selling it (the house is under preliminary sale agreement ... from the very first day of marketing)...
Read more