Contact us
Bordeaux
Sotheby's International Realty
40 Cours de Verdun
33000 Bordeaux, France
Cap Ferret / Pyla
Sotheby's International Realty
13 Boulevard de l'Océan
33115 Pyla sur mer, France
Cap Ferret / Pyla
Sotheby's International Realty
186 bis route du Cap Ferret, Le Canon
33950 Lège-Cap Ferret, France
>
>
We would like to introduce ourselves ...
Would you like to along ?

We introduce you to a bit of the very best of our world in this wonderful video (click here), created by our head office, by Sotheby's International Realty France-Monaco..
We sell sometimes very simple properties, adored by everyone, that are absolutely unique. But here you get to see a very different vision of luxury real estate and its very exclusive environment.
The concept of luxury is a complex one, and is experienced differently by everyone. For us, it is determinedly Rarity, Elegance and Discrètion.
Please come along... and we'll discuss it. The aim is to help you find your very personal Luxury: that of your own home, a place of refuge and resources.
We look forward to seeing you!
The latest news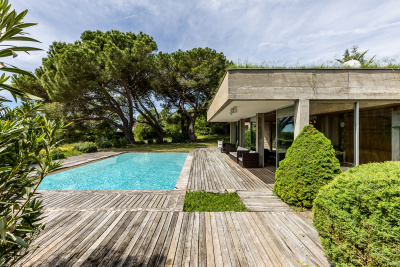 We LOVE the BEAUTIFUL because it makes us feel GOOD! So when you entrust us with a sublime, unusual and legendary place to stay in ... we share it! And then we start selling it (the house is under preliminary sale agreement ... from the very first day of marketing)...
Read more