Contact us
Bordeaux
Sotheby's International Realty
40 Cours de Verdun
33000 Bordeaux, France
Cap Ferret / Pyla
Sotheby's International Realty
13 Boulevard de l'Océan
33115 Pyla sur mer, France
Cap Ferret / Pyla
Sotheby's International Realty
186 bis route du Cap Ferret, Le Canon
33950 Lège-Cap Ferret, France
>
>
Immobilier et Neuro-esthétique
Investir et s'investir

Nous vendons des
espaces à l'esthétique classique ou contemporaine.
Vous y investissez.
Vous vous investissez ... et Google souhaite vous aider à choisir votre future déco; parce que dans un environnement bien choisi, nous allons mieux.
(Chez Bordeaux Sotheby's Realty, cela nous le savons ... nous le vivons chaque jour à vos côtés depuis des années).
Revenons à Google.
Testée au salon de Milan et plébiscitée, Goggle a proposé une installation Prospective "A SPACE FOR BEING". Il s'agit de porter un bracelet "intelligent" et de s'immerger dans trois pièces aux tonalités et matériaux divers, pendant 5 à 10 minutes. A la sortie, Google vous propose un tableau "Aquarelle" de votre sensibilité - positive ou négative - à la beauté du lieu.
Vous voici riche de votre profil neuro-esthétique .. un guide vers vos prochains choix de déco, une fois acquis votre futur
espace à l'esthétique classique ou contemporaine.
Appelons-nous!
05 56 79 63 62
Bordeaux Sotheby's International Realty, votre spécialiste dans l'immobilier de luxe à Bordeaux et au Cap-Ferret / Pyla
The latest news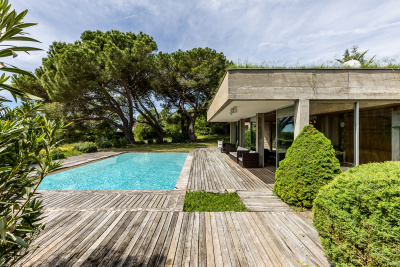 We LOVE the BEAUTIFUL because it makes us feel GOOD! So when you entrust us with a sublime, unusual and legendary place to stay in ... we share it! And then we start selling it (the house is under preliminary sale agreement ... from the very first day of marketing)...
Read more